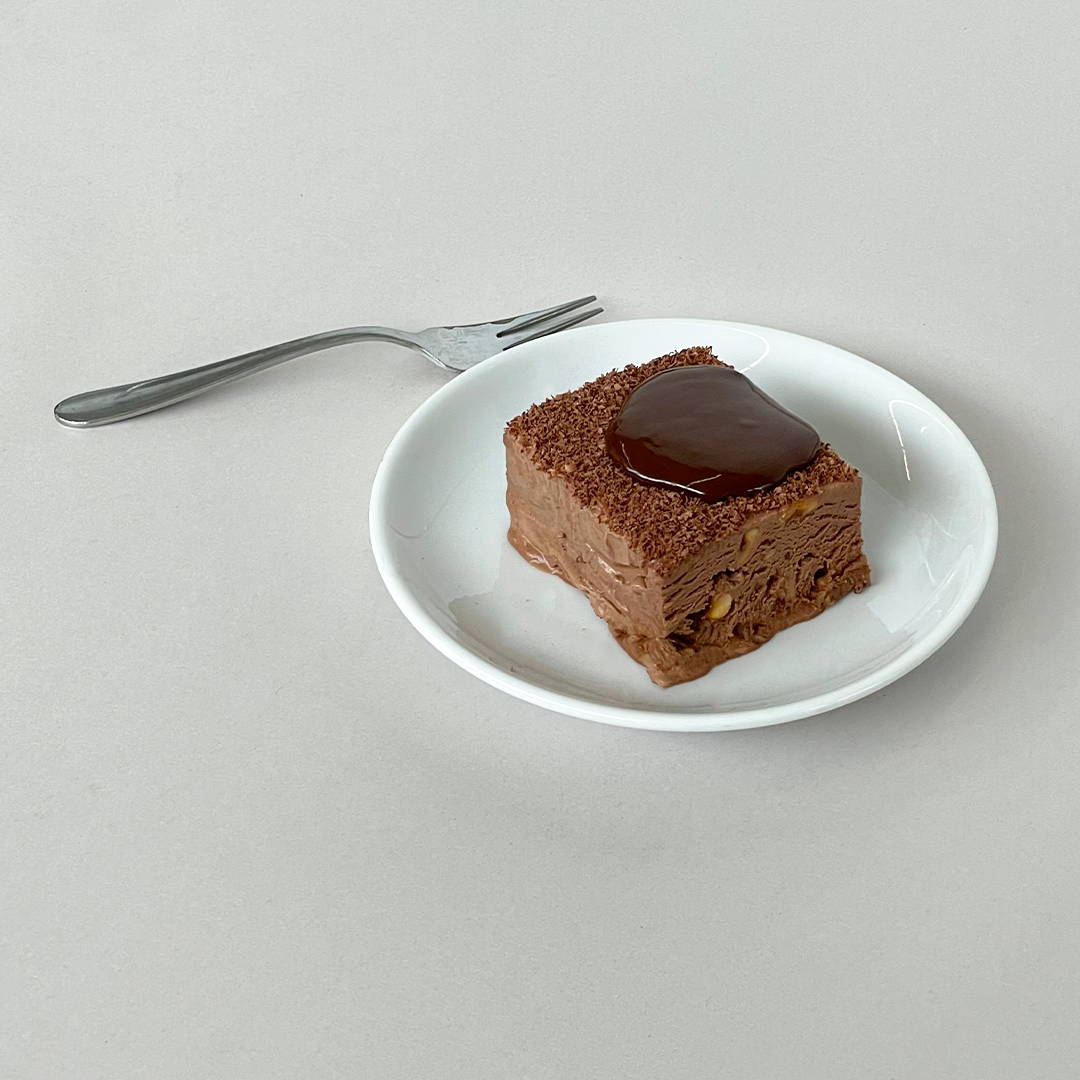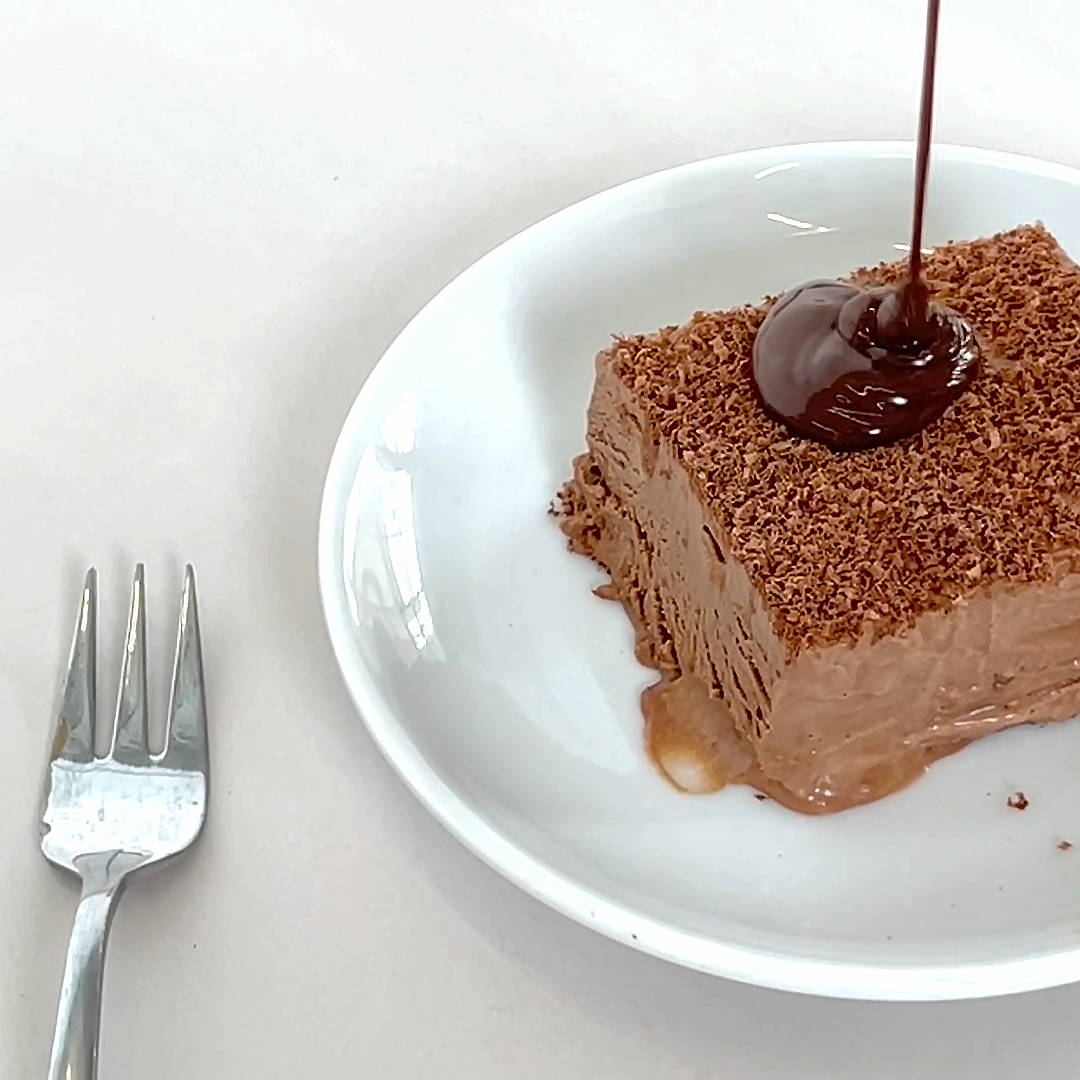 Peaches La Creme (_peacheslacreme__) shares her recipe for Bacio Semi-freddo. She says "Bacio- to me, is big sneaky spoons out of my dad's tub in the freezer."
7 egg yolks
190g castor sugar
40ml Frangelico (15ml for egg mixture and 25ml for cream mixture)
150g 70% Ecuador Cooking Chocolate, melted
21g sifted high quality cocoa powder
450ml of pouring cream
190g of mascarpone
120g of roasted hazelnuts, skinned and chopped
1. Start by lining your bowl/tin/vessel-that you will put your semifreddo in. I have personally used a 10cm (W) X 25cm (L) 1L stainless steel loaf tin. Grease well your tin, and line it with plastic wrap, with additional plastic overhanging (like a BIG blanket in a small bed. The excess cling wrap makes it easier to pull the semifreddo out and also protects it from freezer burn, as you fold it in to cover the mixture). You can definitely put your semifreddo in a bowl or container and scoop out like ice-cream, however I like slicing a piece. The perfect summer "cake".
2. To begin, over low heat-slowly and carefully melt your chocolate over a double boiler. Once done, put aside at room temperature. Let cool slightly. If your hazelnuts nuts are not roasted or skinned, this is the time to do it. Pre heat your oven to 160 and put the hazelnuts in the oven for about 10-15 minutes. Keeping an eye on them. Once roasted, skin them as well as you can and chop them roughly. The roasted hazelnuts is a plentiful addition, so try not to skimp on roasted for raw.
3. Next, using the same double boiler-in a bowl, add your egg yolks, sugar, Frangelico, and vanilla. Whisk over low-medium heat for 5 or so minutes, until ribbons start to form when you move the whisk away. The mixture also gets slightly thicker. Be careful not to scramble your egg yolks! To avoid this, I always make sure it is a light simmer with an appropriately sized bowl to pot so the heat distributes properly, and I use a heatproof spatula between whisking to scrape down the bowl, to ensure overall cooking. Once formed, take off heat and add to the bowl of a stand mixer. Whisk for 2-3 minutes on medium speed, to cool the mixture down. You may also do this by hand, it will take 4-5 minutes.
4. Once your egg mixture has cooled down, add your melted chocolate and then your sifted cocoa powder. Mix together until combined.
5. If using a stand mixer, transfer your chocolate mixture to a medium sized bowl (big enough to mix around 1L of mixture). Clean your mixing bowl, then add your pouring cream, mascarpone and 25ml of Frangelico. Whip until soft peaks form. Add 1/3 of your cream mixture to your chocolate, fold in gently. I have done this step with a stand mixer and paddle, on low speed. Hand folding is usually always better for control; however, I find sometimes to avoid over working the mix, the machine is best, with an additional small hand fold at the end.
Continue to add the remaining cream and hazelnuts. Fold through until all the mixture is completely combined. It should look like a lovely chocolate mousse texture.
6. Pour into prepared vessel. Spread out evenly with your spatula or spoon. Cover with cling wrap. Freeze for a minimum of 6 hours and preferably, overnight. This is served nicely by itself, however you can add some shaved chocolate once plated.Shaved chocolate: Melt down over a double boiler, 100g of chocolate buttons and chill in fridge until set. Shave with vegetable peeler or sharp blade.
7. Remove from the cake tin or mould, slice and serve. An extra
addition could be some slightly warmed chocolate hazelnut spread to serve.
This will keep up to 4 weeks, wrapped properly in glad wrap and additional foil or a freezer appropriate container.