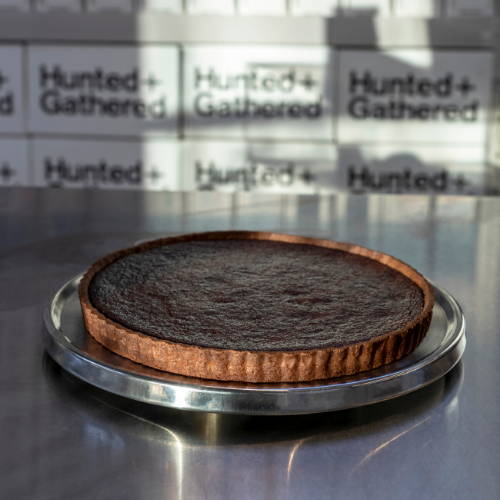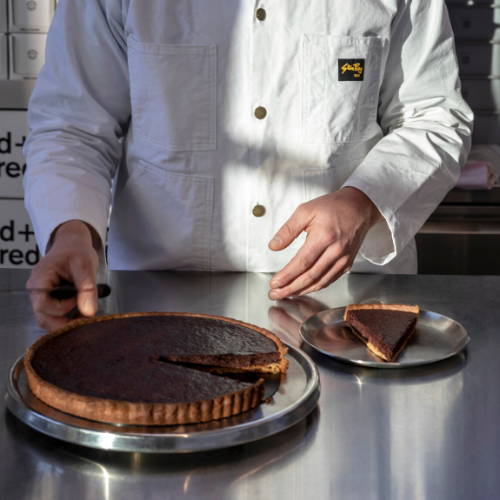 This recipe is an amalgamation of two recipes from two pastry chefs we look up to. The buckwheat tart shell is a recipe from Elisabeth Prueitt from Tartine bakery and the filling is from David Liebovitz formerly of Chez Panisse in Berkeley, California. Our Dominican Republic 70% chocolate is well suited for this recipe.
Ingredients
Buckwheat tart shell
114g unsalted butter, at room temperature

74g white sugar

30g icing sugar, sifted

1 egg yolk

160g buckwheat flour

1/4 teaspoon fine sea salt

Chocolate & rum tart filling

250g white sugar

90g warm coffee

115g unsalted butter, cubed at room temperature

1g sea salt
165g 70% chocolate finely chopped
2 large eggs

35g flour

30g dark rum
Method

Step 1
In the bowl of a stand mixer fitted with the paddle attachment, combine the butter and both sugars and mix on medium speed until smooth. Add the egg yolk, mixing to combine, then scrape down the bowl. Add the flour and salt all at once and mix on low speed until just incorporated. Scrape down the sides of the bowl, divide the dough into two balls, shape each ball into a disk, then wrap in plastic. Refrigerate one disk of dough for at least 2 hours.
Step 2
Preheat the oven to 180°C. Place the chilled dough on a piece of baking paper and roll out to a thickness of 5 mm and a diameter of 28 cm, rolling from the centre toward the edge in all directions. Lift and rotate the dough a quarter turn after every few strokes, working quickly to prevent the dough from becoming warm.
Step 3
Carefully transfer the dough to a 23 cm fluted tart pan with a removable bottom, easing it into the bottom and sides and then pressing gently into place. If the dough develops any tears, patch with the extra dough and press firmly to stick on. Trim the dough level with the top of the pan with a knife and place the pastry shell in the refrigerator or freezer until firm, about 15 minutes.
Step 4
Bake the shell for 7 minutes, then rotate the pan and continue baking for 8 minutes, until dark blue/purple around the edges.
Step 6
Spread the sugar in an even layer in the bottom of a large pot. Cook the sugar over medium heat until the edges begin to caramelize. Use a heatproof spatula to gently drag the liquefied sugar toward the centre of the pan.
Step 7
Once the sugar is melted, it was caramelise quickly. When it starts to smoke, but before it burns, turn off the heat and stir in the coffee. (The mixture will bubble and seize a bit).If the caramel has seized up in places, stir it gently over low heat until smooth.
Step 8
Add the butter and salt, and stir until melted, then stir in the chocolate until smooth.Mix in the eggs, flour and the rum.
Step 9
Pour the mixture into the pre-baked tart shell, then bake for 15 to 20 minutes at 180°C, just until the filling starts to rise and crack at the edges but the centre is still wobbly. Be careful not to over-bake. Remove from oven and let cool completely before slicing