Bruce Bogtrotter's Chocolate Cake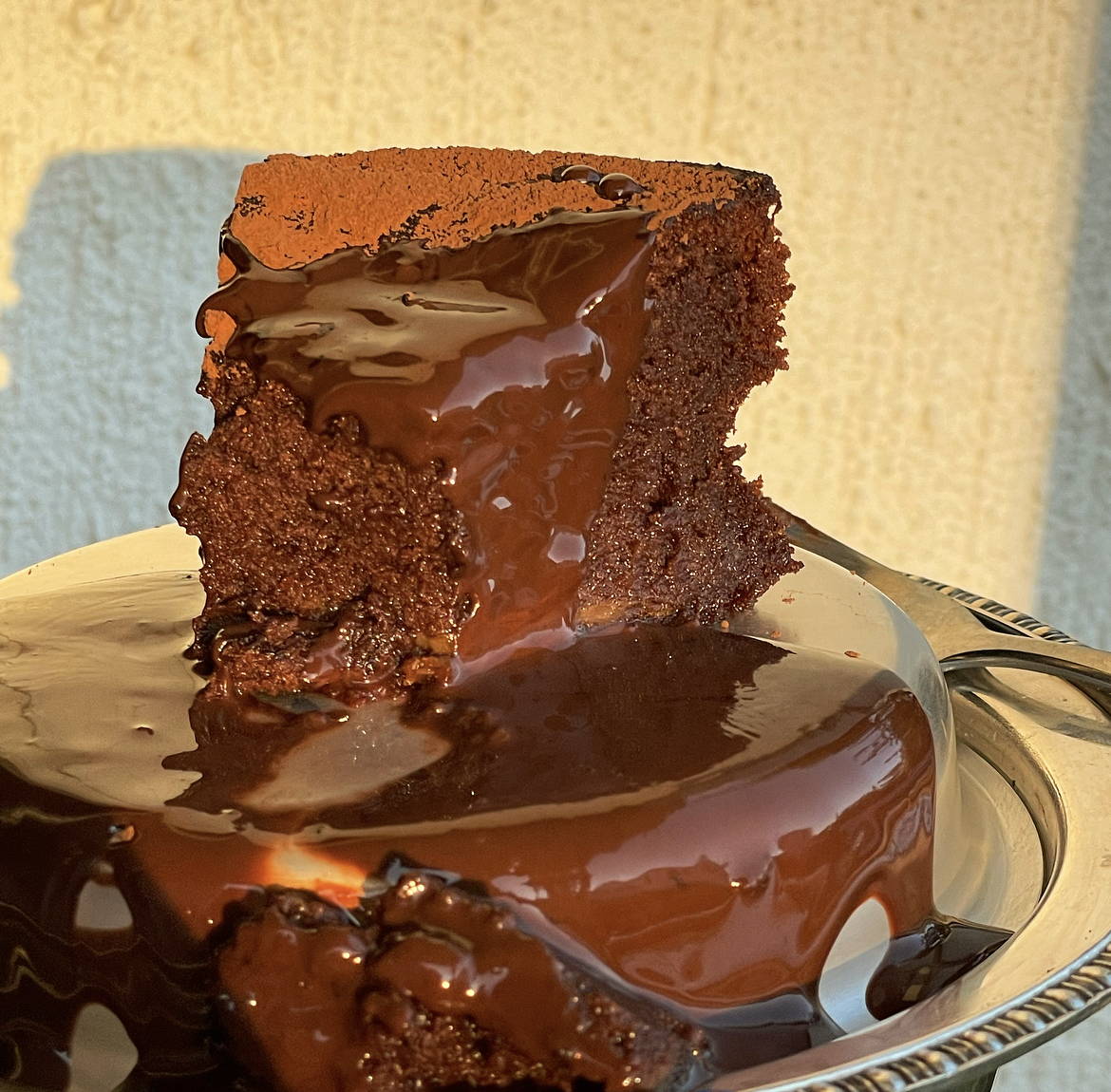 Katianna Velos (@katvel__) is the co-owner of Golden Groves organic olive oil. Katianna says about the recipe "This cake is named after the iconic Bruce Bogtrotter, the true hero of the childhood classic film, Matilda. Rich, decadent but extraordinarily simple, this is my go-to chocolate cake for any occasion due to the accessibility of the ingredients that are sure staples in most peoples' pantries. The impeccable taste of this almost too easy cake is a testament to the provenance of the ingredients used – mostly organic, unlike Bruce's.
3 organic eggs, yolks and whites separated
1 tbs vanilla bean extract
125g unsalted organic butter
125g caster sugar
125g Tanzania 70% Cooking Chocolate
Pinch of sea salt
Cacao powder to top
Optional: Hunted + Gathered Organic Chocolate Hazelnut Spread
1. Preheat oven to 160°C Line a 20cm round baking tray with baking paper on the bottom, and grease the sides well with butter.
Beat the egg whites and a decent pinch of sea salt until stiff peaks form.
2. Melt butter and dark chocolate together by filling a large saucepan with hot water, then while it's simmering, add a metal bowl on top of saucepan with butter and chocolate (make sure water doesn't touch bottom of bowl), and stir until butter and chocolate have formed a homogenous mixture. Remove from heat and allow to cool.
3. Beat egg yolks until pale yellow. Then add in the sugar slowly bit by bit, until the egg yolks are pale and fluffy in texture.
4. Once the chocolate and butter have cooled, gradually add in chocolate mixture to egg yolks. Stir until the chocolate and yolks are well combined. Make sure the chocolate has cooled or else you'll end up with a scrambled chocolate omelette.
5.Add the egg whites (in thirds) into chocolate yolk mixture, taking care to fold the egg whites into the chocolate as you don't want the cake to fully deflate - it will deflate when it is removed from the oven, but the egg whites help retain at least some structural integrity of the cake.
6.Once mixture is folded and well combined, pour into baking tray until evenly spread across the pan.
Bake for 25 minutes at 160 Celsius.
7.Remove from oven and let it cool for 30 mins. The cake will deflate and crack and that's precisely what you want.
8. When cool, top with cocoa powder, slice and serve or go in with your fingers like the namesake of this cake, Brucey style. For an extra decadent touch, go heavy and pour some Hunted + Gathered Hazelnut Chocolate Spread over the top.