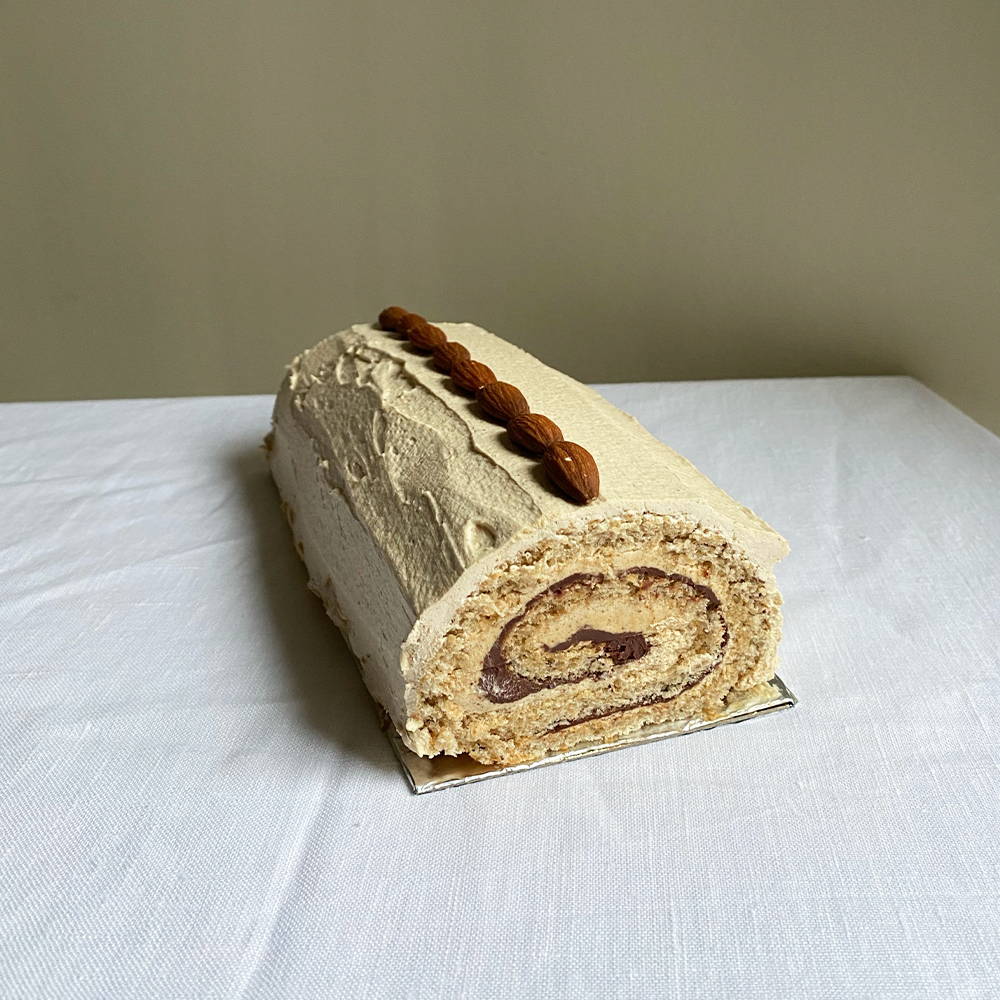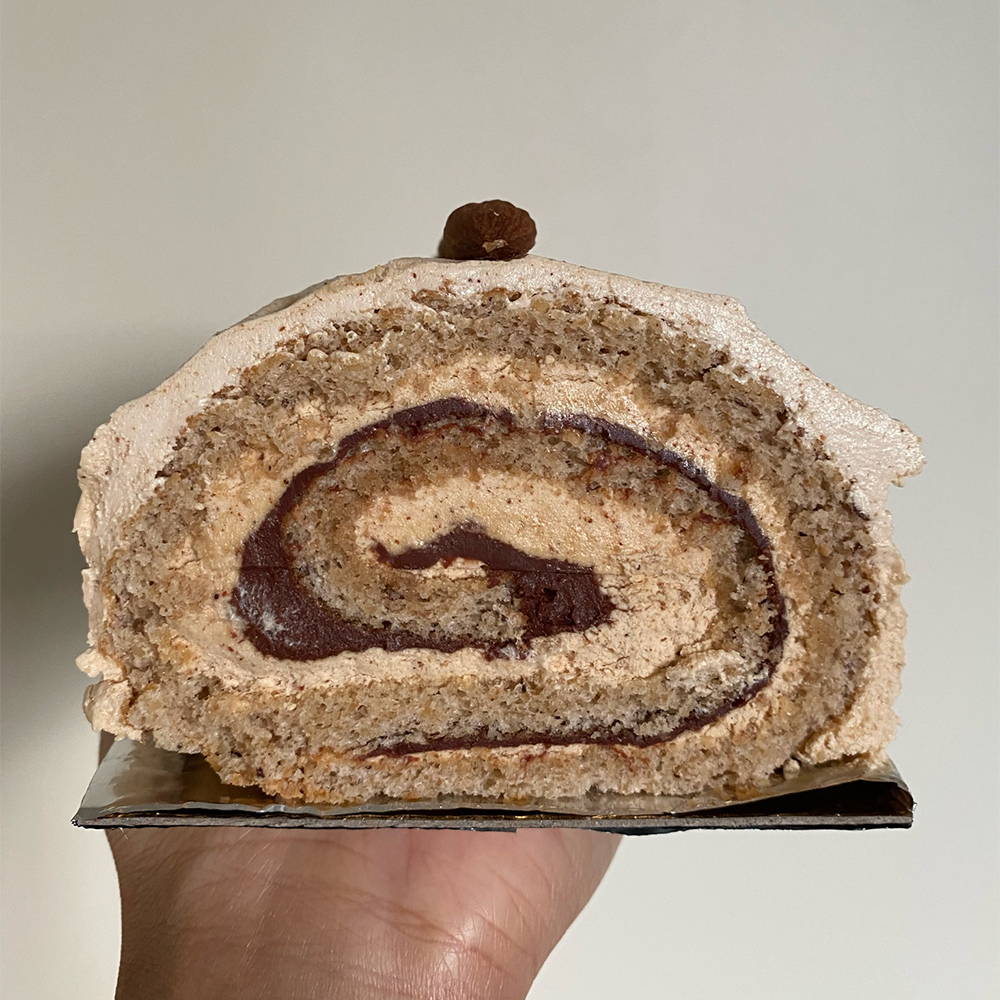 Zelikha Dinga (carodiario_paris) is a chef based in Paris. Zelikha writes recipes, caters for events or parties and work freelance through her company Caro Diario. Zelikha says "I've always been very very into simple and traditional yule log cakes. Based on a recipe I bake every year for Christmas (with a light génoise and a praline cream) only this year I'm adding a chocolate ganache and I've been blown away by the nutty and rich flavour from Hunted+Gathered Dominican Republic Buttons. It has an incredible length! Better prepared one day ahead, it's delicious overnight. I hope you enjoy." See Zelikhas website here.
Genoise Sponge
60g icing sugar

60g hazelnut meal
2 whole eggs
4 egg whites
50g flour
50g white sugar
Vanilla Syrup
100g water
75g white sugar

1/2 vanilla bean
Chocolate Ganache
100g Dominican Republic 70% Cooking Chocolate
100g cream
10g butter
20g invert sugar or glucose
Creme au beurre

250g full cream milk

1/2 vanilla bean
Creme Patissiere
Creme au beurre
3 yolks
50g sugar
20g cornstarch
Hazelnut Praline and Praline Butter

120g roasted hazelnuts
80g white sugar
240g butter
1. Genoise Sponge - Start your oven at 170 degrees celsius. In a bowl, mix well together the flour, icing sugar, hazelnut powder, then add the eggs one by one until fully combined.
In another bowl, whisk the whites with the sugar until firms. Incorporate very delicately the whites to the first mix.
2. Grease and put parchment paper on a 20x30cm génoise tray, pour the dough and spread it evenly with a spatula. Put in the oven and cook 13/15 minutes. Set aside.
3. Vanilla Syrup - Heat all the ingredients together, when the sugar is dissolved leave the syrup to cool.
4. Chocolate Ganche - Put the chocolate buttons in a bowl. Heat the cream and invert sugar, pour it over the chocolate. Wait one minute and stir delicately together until you create a beautiful and glossy ganache. Add the butter and stir well.
5. Crème au beurre - Infuse the milk with the vanilla bean anytime from one to 24 hours.
6. Creme Patissiere - Mix together your yolks, sugar and cornstarch. Heat your milk and pour it on your mixture, mix well and return everything to the pan on medium fire. Keep on mixing until it thickens. Clear it in a box and in the fridge.
7. Hazelnut Praline - Place sugar in a pot over medium heat until it reaches 118 degrees celsius, add your hazelnuts to the pan with the sugar, stir with a spatula until sugar is dissolved, clear on a silicone mat, and when cold blend it at high speed until very smooth.
8. When the crème pâtissière is cold, put it in the bowl of your stand mixer, whisk it until aerated. Add your butter little by little, at some point, you'll end up with a dense and thick cream.
Add the praliné and keep on mixing for one minute until well incorporated. Set aside, and if too runny put it a bit in the fridge.
9. Assemble -
Return your génoise on a parchment paper lightly covered with icing sugar (to prevent it from sticking). Peel off the cooking parchment paper from your génoise. Heat your vanilla syrup and lightly soak your cake with a brush. Spread 1/3 of your praliné butter cream, and on top of it spread all the chocolate ganache.
10. Roll your cake as tightly as possible and put it in the fridge for 2 hours. Take out from the fridge, trim the two edges to make your cake straight.
Decorate it with the rest of the butter cream and whatever comes to your mind!
Keep the log in the fridge for a few hours, the aromas will develop, but take it out at least half an hour before eating it.