Buckwheat Chocolate Brownie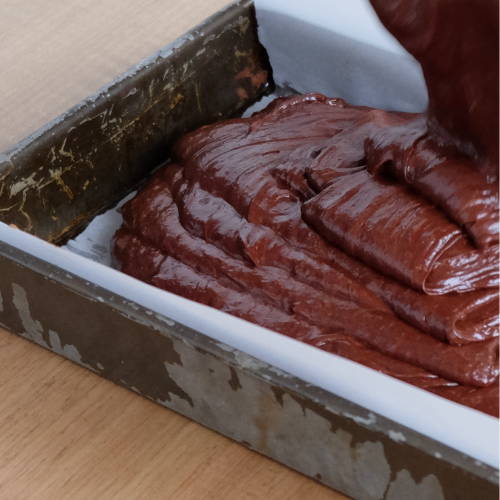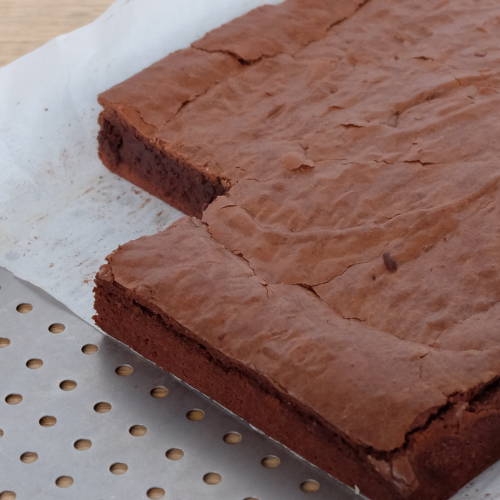 140g unsalted butter, cubed
285g 70% Domincan Republic Buttons
3 eggs
250g white sugar
4g vanilla extract
45g potato starch
70g buckwheat flour
4g kosher salt
1. Line a 21cm x 21cm pan with baking paper. Make sure the sides are covered and overhang slightly. This will make removing the brownie from the pan easier.
2. Place cubed butter and finely chopped chocolate into a bowl set over a pot with lightly simmering water. Ensure the bowl is not touching the water. Once melted, remove the bowl from the pot and set aside.
3. In a stand mixer place the eggs, white sugar and salt and whisk until mixture is light and fluffy and tripled in size. If you lift the whisk up the mixture should ribbon back onto itself.
4. Fold the egg and sugar mixture into the chocolate mixture. Its okay if you don't incorporate it fully as you will be folding again in the next step.
5. Sift buckwheat flour and potato starch into batter and then fold to incorporate. Be careful not to deflate the mixture too much.
6. Pour into the prepared pan and smooth the batter into the edges.
7. Bake at 165 degrees celsius for 25 minutes. It will still be liquid when it comes out of the oven but will need time to set before you can take it out of the pan if you want to slice it. Alternatively you can enjoy it after it has cooled slightly, scooped straight out of the pan.

Liquid error (templates/page.gem-62818943132-template line 19): product form must be given a product