Chocolate Espresso Chiffon with Hazelnut Ganache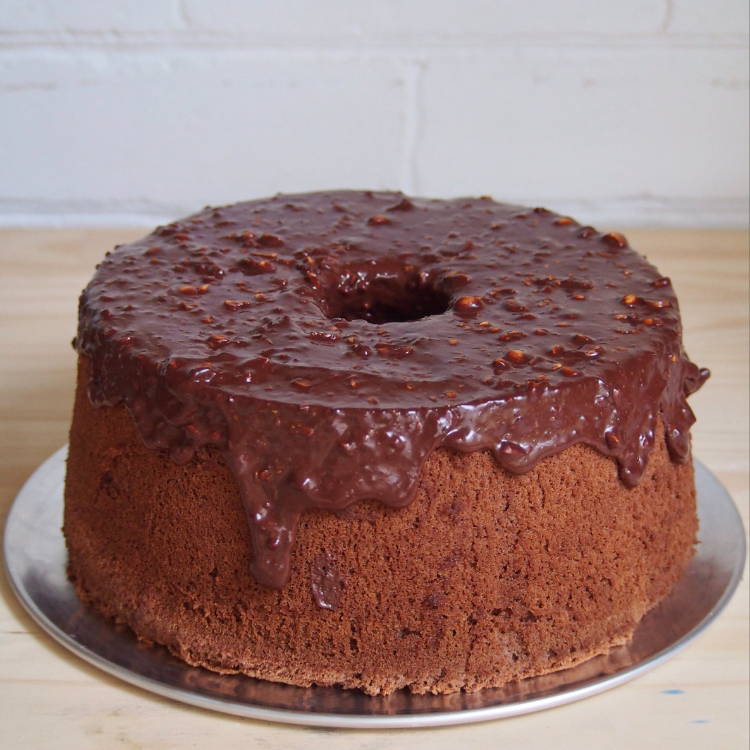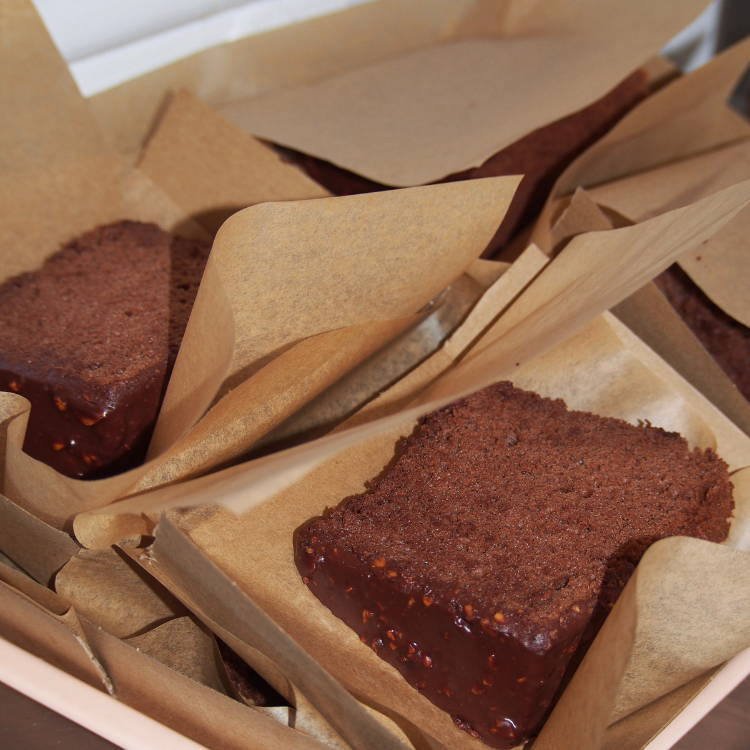 Natasha Brownfield is a pastry chef in Boorloo/Perth. She shares her recipe for Chocolate Espresso Chiffon with Hazelnut Ganache. "I've ended up doing a chocolate chiffon- I haven't come across a sponge recipe which actually includes melted chocolate so I'm stoked this turned out well
Cake
20g dutch cocoa

170g strong brewed coffee
35g Hunted+Gathered Ecuador 70% dark chocolate
175g self raising flour
300g caster sugar #1
zest of half an orange (optional)
4g fine sea salt
110g neutral oil
110g yolks
5g vanilla
300g egg whites
5g cream of tartar
30g castor sugar #2
Chocolate Ganache Glaze
140g pouring cream
100g Hunted+Gathered 70% Ecuador chocolate
40g Hunted+Gathered Chocolate Hazelnut Spread
20g crushed roasted hazelnuts
1.If you would like to make the chocolate orange version, zest half an orange over 300g caster sugar and rub together. Allow it to sit a while before commencing.
2. Preheat the oven to 160 degrees celsius. Pour the hot black coffee over the dutch cocoa and combine, then drop in your chocolate buttons and stir until melted. Allow it to cool slightly before whisking in the neutral oil, egg yolks, salt, vanilla and 300g of the caster sugar.
3. Prepare the flour to be sieved over the yolk mixture once your egg whites are half way to stiff peaks, so first you'll need to get them whipping.
4. Whip your egg whites and cream of tartar on medium speed to form soft peaks, then gradually add in the remaining 20g of sugar, teaspoon at a time, allowing it to dissolve before each addition. Keep whipping until stiff glossy peaks are formed, but be careful not to over whip, or you will end up with clumpy sudsy whites which are difficult to incorporate with the yolky batter.
5. Fold one third of the glossy egg whites into the yolky batter to lighten, and then continue with the remaining two thirds, working gently with a spatula. Scrape all the way to the bottom of the bowl until there are no white streaks remaining.
6. Pour into a 9 inch chiffon cake tin and use a chopstick or skewer to swirl the batter, evening out the surface and popping any bubbles. Bake for 55-60 minutes, or until a thermometer reads between 80-90 degrees. Hang upside down to cool and set the crumb structure.
Once completely cool, run a long skinny paring knife around the rim of the tin to loosen the sponge, (the tricky part!) Jiggle it out of the tin, onto a wire or cake plate. Use the knife to cut
away the centre/base of the cake tin. You are going to conceal any shaggy sponge crumbs with ganache, so don't worry if it's not the cleanest un-moulding.
For chocolate ganache glaze
1. Roast the hazelnuts on a tray, crush them quite fine, and then return to the tray to keep warm.
2. Bring the cream to a simmer and pour over the chocolate buttons and hazelnut spread. Whisk to combine, then mix in the warm crushed hazelnuts. Use the ganache immediately to glaze the chiffon and allow to set.
Use a big serrated knife to slice and enjoy.