Chocolate, Honey and Walnut Babka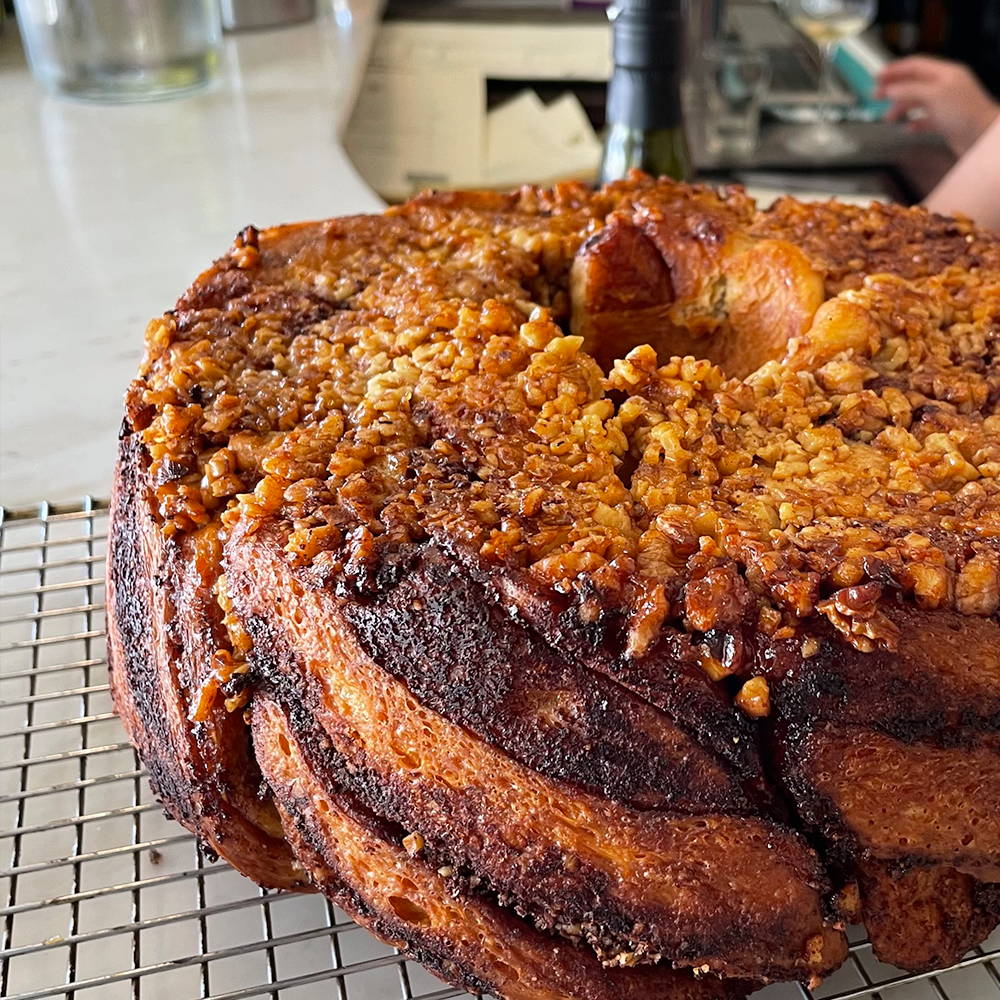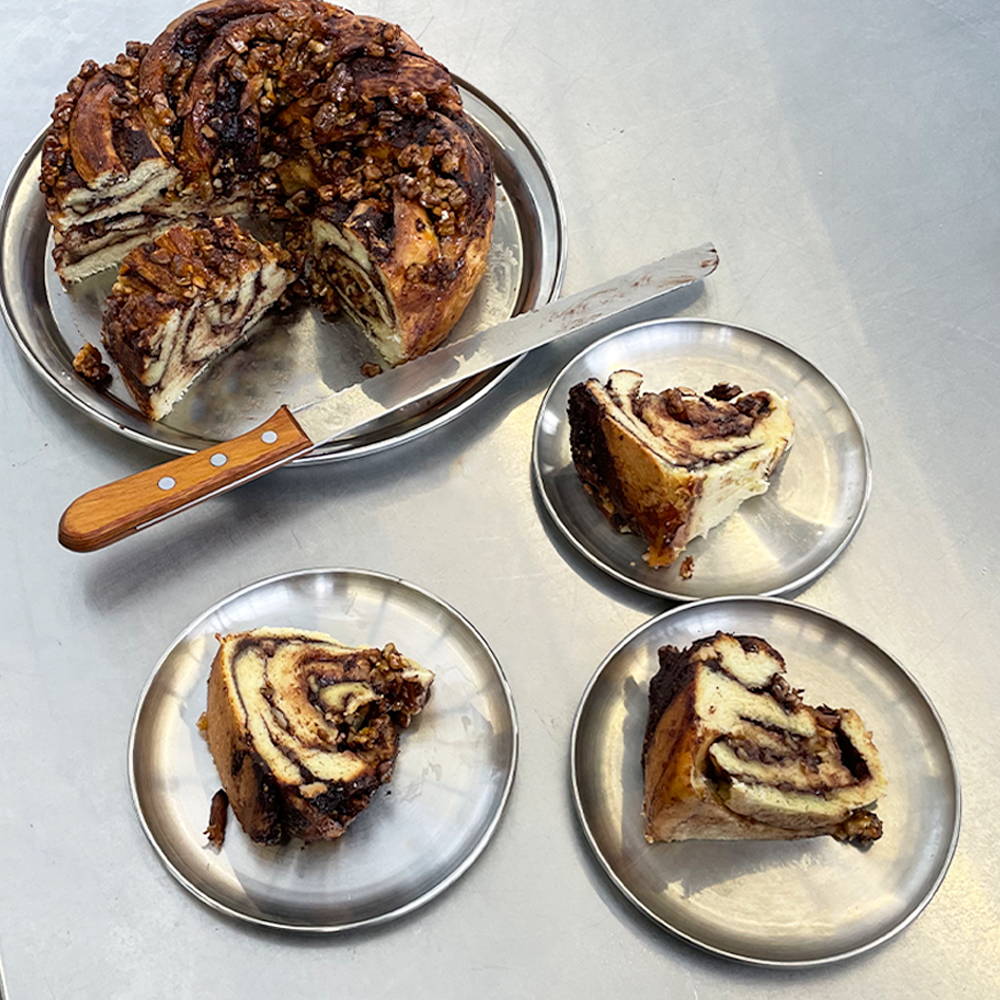 Natasha Brownfield (@natashabrownfield) is a pastry chef working in Perth/Boorloo.
Enriched Dough
280g milk
8g dried yeast
3 eggs
150g butter softened
600g bread flour
50g sugar
5g salt
1tsp orange zest
For the filling
160 g butter
80g Tanzania 70% Cooking Chocolate
10g cocoa powder
60g icing sugar
Pinch sea salt
100g toasted crushed walnuts
For the topping
40g butter
40g brown sugar
40g honey
Pinch sea salt
1/4tsp orange zest
1/2tsp vanilla
100g toasted chopped walnuts
1. For the dough, lightly whisk the milk and yeast in a stand mixer bowl, then add the eggs, softened butter, followed by the flour, sugar, salt and zest. Mix with the dough hook for 8-15 minutes on low-medium to achieve a cohesive dough. If you take a piece of dough and stretch it, you should be able to see through it without the dough breaking. Tuck it up neatly and transfer to a greased bowl covered with a damp tea towel for an hour or until increased by half. Knock it back (remove the air) by pressing into the dough. Move to the fridge to continue a slow proof in the fridge for 2-3 hours or overnight. A chilled dough will be easier to roll out.
2. Melt the butter, chocolate, cocoa powder, icing sugar and salt together in a pot until fully melted. Place the mixture in the fridge and give it a quick stir every 10 minutes until it has set to a spreadable paste. If it gets too thick, you can put it in the microwave in small increments to make it spreadable again.
3. For the topping, place the honey, brown sugar, butter, vanilla, orange zest and sea salt until melted and starting to bubble. Add 100g chopped walnuts and mix until incorporated, and set it aside.
4. Roll the dough to a rectangle the size of 20cm x 50cm and spread the chocolate paste all over. Sprinkle with the remaining 100g chopped walnuts. Roll it up as you would a cinnamon scroll, slice it down the middle of the roll lengthways and twist the halves around each other to create a braided babka shape. Alternatively, you could slice the roll into twelve rounds to create individual buns.
5. The braid can be arranged in a loaf tin, in a free form ring shape on a tray, or a bundt tin. I used my chiffon tin to form a ring shape inspired by a pane di pasqua. Spoon the caramelised walnut topping over the loaf or buns. Cover with a damp tea towel and proof straight away for 2-3 hours. You can also chill overnight (proof for 3-4 hours from the fridge). The dough should have doubled in volume, hugging itself snugly in the tin.
6. To bake the loaf, place in the oven for 40-45 minutes at 150 degrees until the caramel walnuts are golden. The loaf should read 80 degrees internally on a digital thermometer when it's ready. To bake the buns, put them in the oven at 160 for 20 minutes or until they are browned all over.