Polish Carpathian Cream Cake (Karpatka)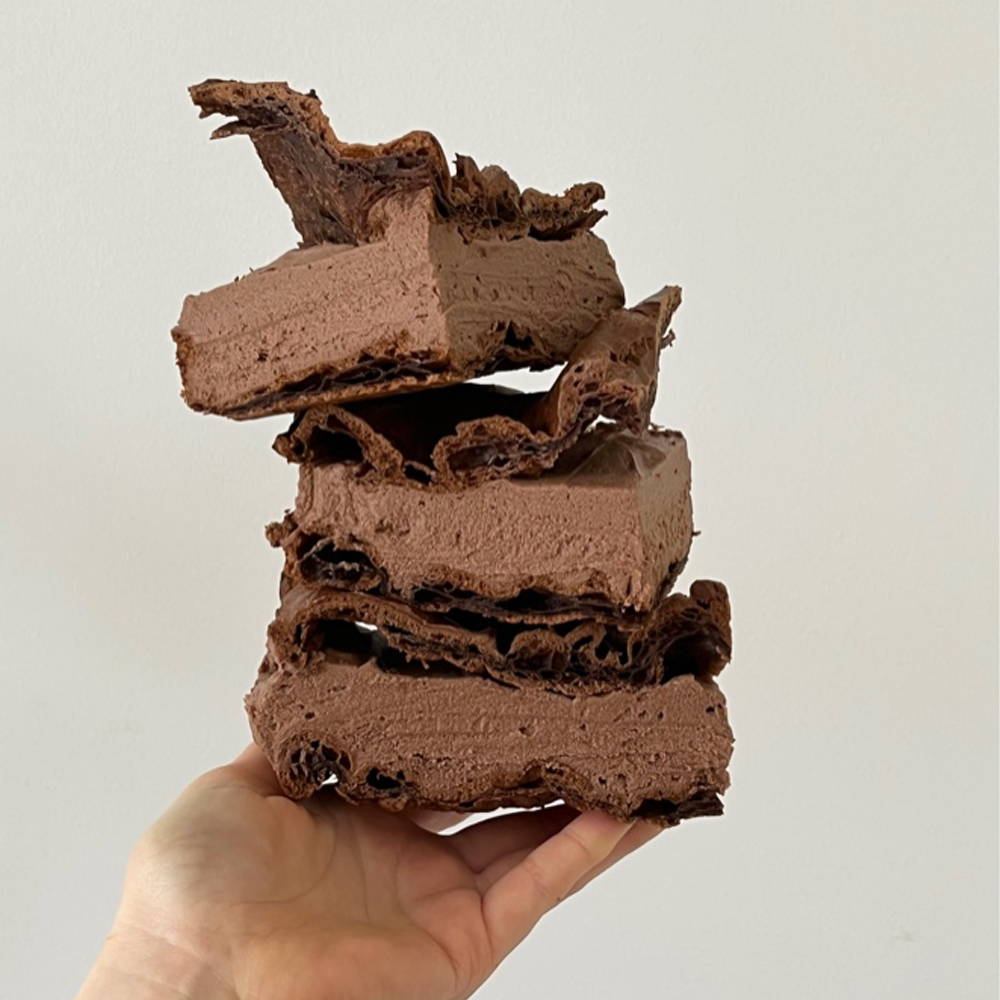 Marta Beimin (martaxeats) is a cook based in Gotland (a small island in Sweden) who is spreading awareness of her Polish heritage through food. She shared with us her recipe for Karpatka; a traditional Polish cream pie filled with custard. In this version Marta uses our cooking chocolate to make a rich chocolate custard, which is layered between Choux pastry with sour cherry jam.
Marta's recipe is evocative of her native Poland, "when you look at the Choux pastry from above, it is shaped like a mountain landscape." We find this recipe works particularly well with our 70% Ecuadorian Dark Cooking Chocolate; the fudgy/brownie notes work well with the tartness from the jam.
Chocolate choux:

125ml water
125ml milk
125g unsalted butter
150g flour, sifted.
20g sifted high quality cocoa powder
5 eggs at room temperature
Additional: 1 flat teaspoon baking powder
Chocolate filling:
750ml milk
100g castor sugar
2 egg yolks at room temperature
2 tablespoons high quality cocoa powder
½ teaspoon vanilla bean powder or seeds from 1 vanilla bean
5 heaped tablespoons potato starch
4 tablespoons flour
200-250g very soft unsalted butter
100-120g 70% Dominican Republic 70% Cooking Chocolate, melted and cooled down
Sour cherry jam:
300g fresh/frozen sour cherries without the pits
10-20g castor sugar
2 teaspoons potato starch
2 tablespoons cold water
Chocolate cream
1. Prepare the chocolate custard first. Bring 500 ml of milk to a boil. Mix thoroughly the remaining 250 ml with the egg yolks, sugar, vanilla, potato starch, flour and cocoa powder. Once the milk starts to boil, pour in the other ingredients. Keep stirring for around one minute until there are no lumps and the custard is thick and glossy.
2.
Cover the top with plastic wrap to prevent a skin forming on the surface. Allow it to cool.
3. Do this step once you have made the chocolate choux: in a large bowl mix the soft butter, while mixing gradually add the cold pudding. Don't mix it for too long because it can cause curdling. Once the butter and custard are fully combined, add the cool, but still liquid chocolate to the custard mass. Mix only until all the ingredients are combined.
Sour cherry jam
1. Add the sour cherries to a saucepan and cover it with sugar. Cook the fruit on low heat. Mix from time to time until they are soft and the juice starts coming out.
2. Combine together the potato starch with water and add it to the cherries. Stir the sour cherry jam all the time until it's thickened. Allow it cool down before serving.
Chocolate choux
1. Preheat the oven on 220 degrees Celsius.
2. Sift together the flour and cacao powder. Set aside. To a saucepan add water, milk and butter and allow it to boil. Once it starts boiling, remove from heat and stir in the sifted flour and cacao powder. Put the saucepan back on the stove on low heat and stir for around 2 minutes until the dough doesn't stick to the sides anymore. Let the dough cool for around 20 min.
3.Once the dough has cooled down, mix it on medium-high speed and add one egg at a time. At the end add one flat teaspoon of baking powder, let it mix for one minute on high speed.
4. Line with baking paper a rectangular baking tin approx. 35 x 23 cm. Use a spoon to spread out half of the dough. A side note: you can use a round baking tin which will make you around four choux discs.
5. Bake for 10 min in 220 degrees Celsius, then lower the heat to 180 and bake for another 15-20 min. The choux pastry should be completely dry, if not bake it for longer. Take the choux pastry out of the oven and gently turn it around, if the dough is still undercooked beneath put it back in the oven for another few minutes. Repeat this step with the other half of the dough.
Assembly
1. Take one half of the choux pastry layer and pour the chocolate cream filling over, spread it evenly. Next spread out the sour cherry jam evenly on the filling, top it off with the other chocolate choux pastry layer. Let is sit in the fridge for a while until the filling has slightly set. Serve immediately