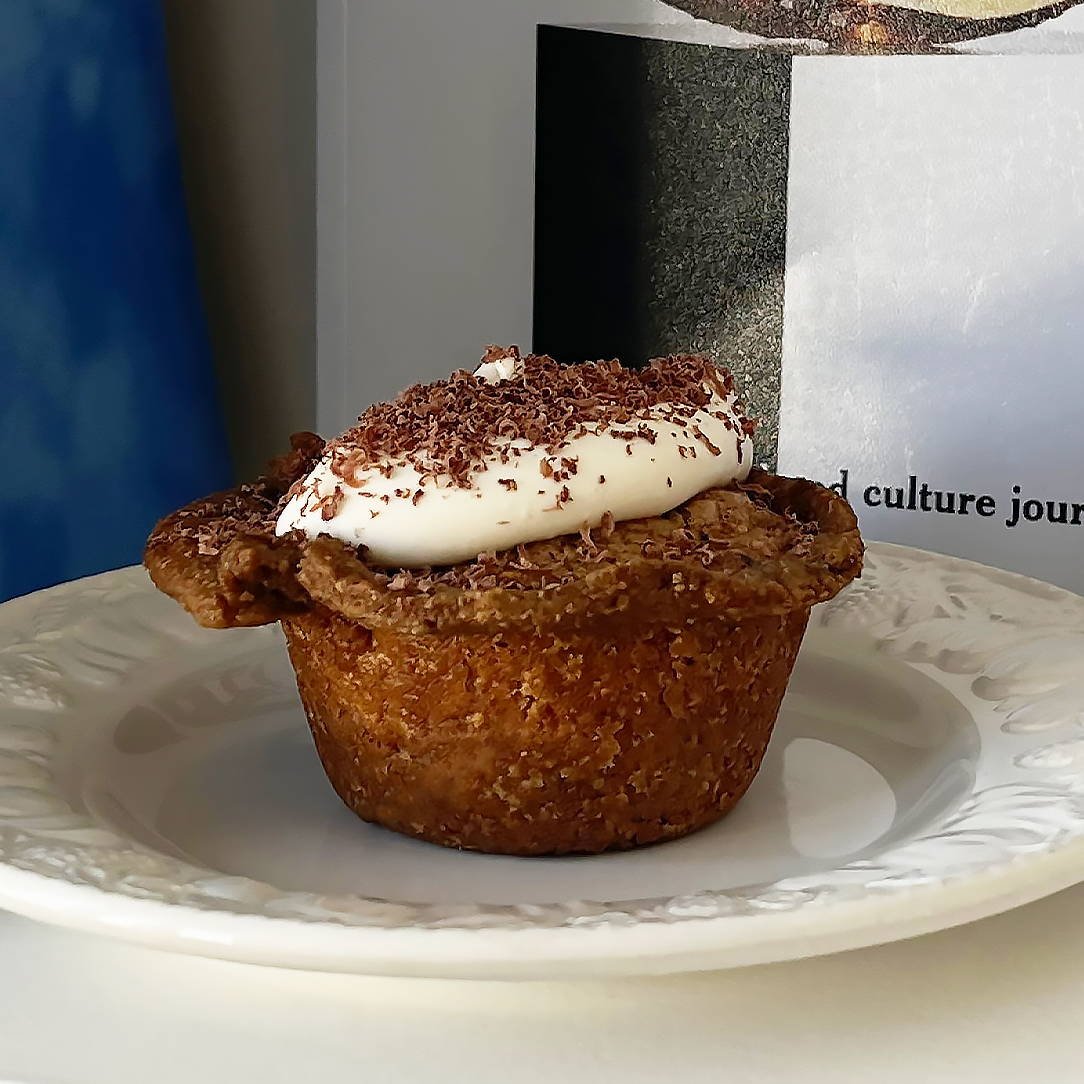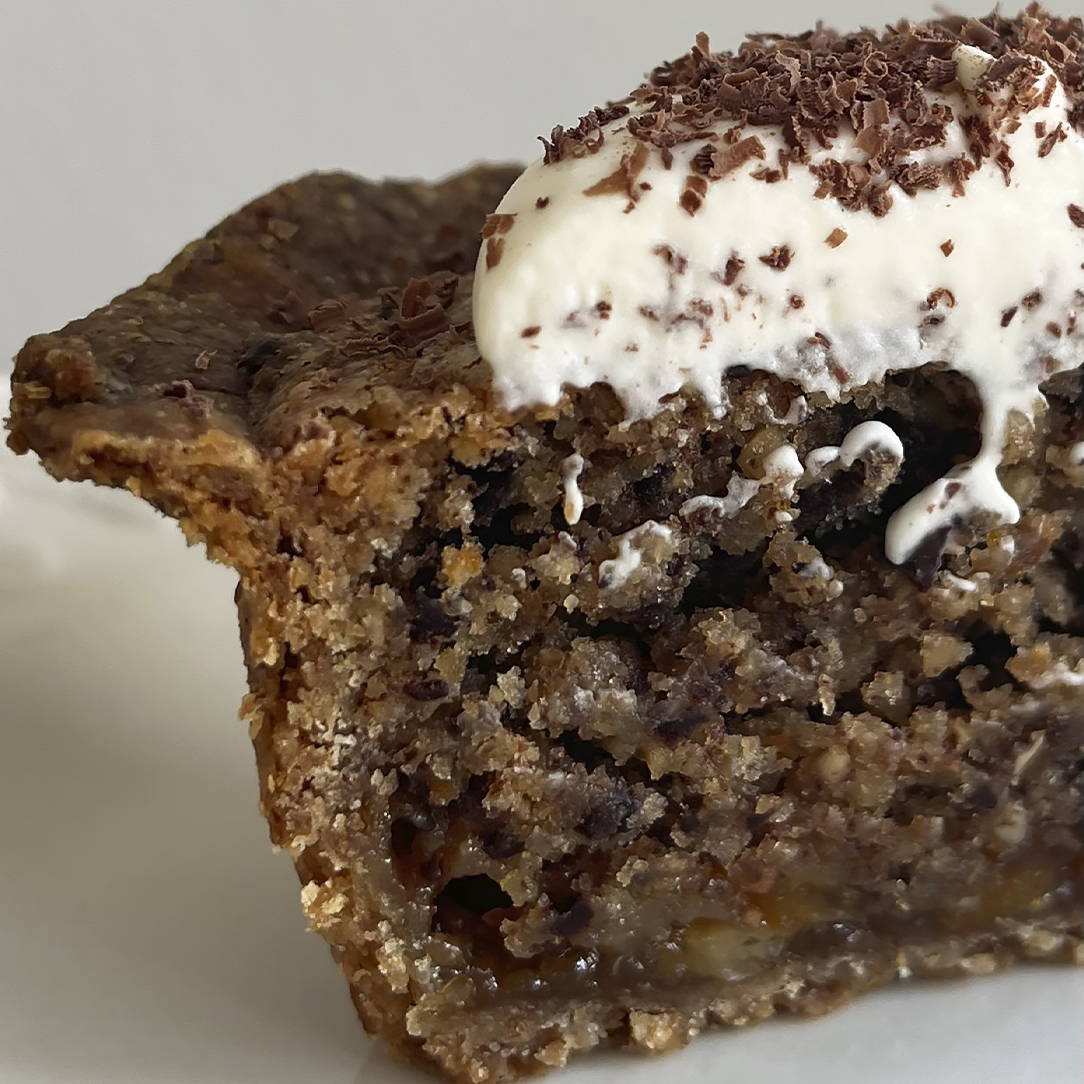 Flora Manson is a talented and creative baker who shares her creations on
@f.manson.
Recently Flora shared a recipe inspired by one of her favourite offerings at 287 Bakery in Glasgow. She describes the rye pastry as having a gloriously deep, nutty flavour and a wonderfully crumbly texture due to the slightly lower gluten content in rye than all-purpose flour, while the frangipane is rich with flavours of caramel-like brown sugar and depth from the roasting of the nuts, and lightly fragrant with orange zest. According to Flora, the brown sugar crème fraîche topping is the perfect mixture of sweet and tart and is utterly addictive.
Rye pastry
300g dark rye pastry
180g salted butter, cold and cubed 30g icing sugar
1 egg yolk
Ice cold water, 50-100ml
Roasted hazelnut, chocolate and orange frangipane
260g salted butter, room temperature 235g caster sugar
25g light brown sugar
4 eggs
1 tsp vanilla
Zest of one orange
170g Ghana 70% Buttons , blitzed to a mix of small rubble and powder 1 tbsp dark rye flour
190g roasted hazelnuts
50g roasted almonds
Creme fraiche topping
400ml crème fraîche
100g light brown sugar – or to your taste 1 tbsp Frangelico
Grated chocolate
Jar of favourite marmalade – I used the blood orange and pink peppercorn marmalade by Juno
Make the pastry
1. Add the flour to a bowl, sift in the icing sugar and mix. Add the cold butter and use your fingers to work the butter into the flour, until it resembles breadcrumbs. Some larger pieces of butter throughout are ok. Add the egg yolk and ice cold water, 1 tbsp at a time, until the dough comes together. Shape the dough into a slightly flattened disk, wrap in cling film and put in the fridge for 1hr-2 days.
Make the frangipane
2. Preheat oven to 180C fan. Put hazelnuts and almonds (whole) on a baking tray and roast in oven for 10-15 minutes, until a deep golden brown. Remove and let cool slightly before placing all nuts in a blender and blitz to to a mix of fine and coarse crumbs.
3. Cream together the butter and sugars. Add eggs, one at a time, mixing well after each addition. Add in hazelnuts, almonds, vanilla extract and orange zest and mix until well combined. Add blitzed chocolate and tbsp of rye flour and mix until well combined. Set in fridge to rest for 1hr-2 days.
To bake
4. Preheat oven to 170C fan. Roll out your dough to about 3mm thickness and cut rounds that will allow 1-2inch overhang when pressed into your cupcake/muffin tin. Don't be too precious when pressing the dough into the tin – overlap the pastry and leave some overhang, 2-4cm, for each tart. Use dough scraps to patch up any holes created when pressing into the tins. Pierce the bottom of each tart with a fork and bake for 10-15 mins in the preheated oven.
5. Remove once lightly baked, place a tbsp of your chosen marmalade into the bottom of each tart, then the frangipane – fill each tart right to the top and smooth over slightly. Place back in the oven and bake for 40-50 mins, until the pastry is deeply golden and the frangipane is puffed up slightly, golden brown and full baked.
6. Once baked, remove from the oven and leave to cool in the tin for 15 minutes. When ready, carefully remove the tarts from the tin (try your best not to break the overhanging pastry) and leave to cool completely on a cooling rack.
Crème fraîche
7. Place the crème fraîche in a medium bowl with the light brown sugar and use a whisk to whip until thickened. Add the frangelico and whip until incorporated and silky but thick.
8. Dollop the crème fraîche mixture onto the cooled tarts, and sprinkle some grated chocolate or chocolate shavings on top.