Sesame Sponge, Honey and Chocolate Layer Cake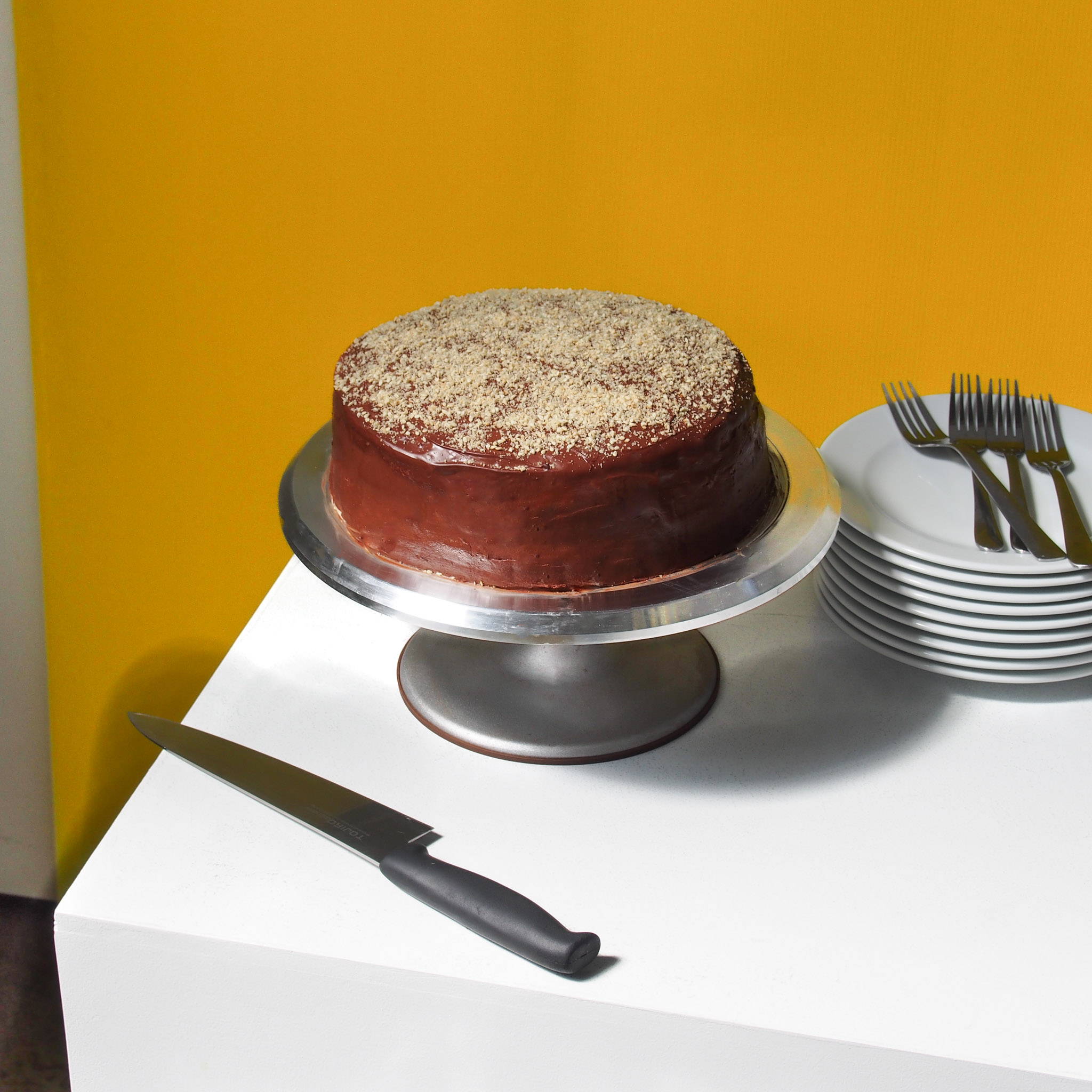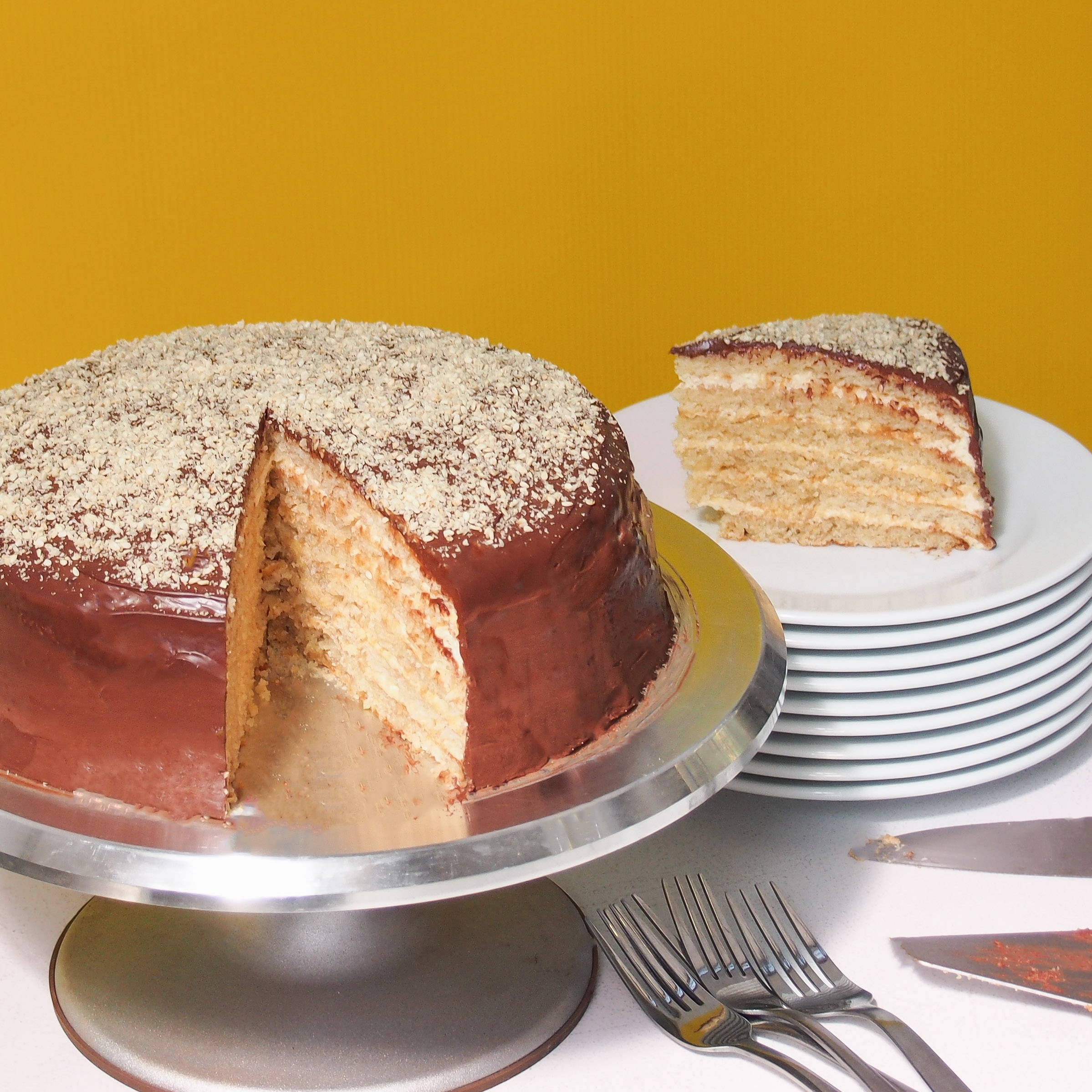 Natasha Brownfield (@natashabrownfield) is a pastry chef based in Perth (Boorloo). Natasha shared her recipe for a Sesame Sponge, Honey and Chocolate Layer Cake; it has a light crumb with a pronounced nutty flavour from the sesame. The sponge is balanced by layers of tangy burnt honey cream.
Roasted Sesame Jaconde Sponge
230g toasted sesame seeds
100g almond meal
100g plain flour
280g caster sugar
10g baking powder 1 tsp salt
180g neutral oil
150ml choice of milk
80g egg yolks
180g egg whites
Tsp cream of tartar
2 Tbsp sugar
80g burnt honey
600g cream
200g sour cream
Ganache
150g Domincan Republic
70%
150ml cream
1⁄2 tsp sea salt
1 tbsp ground roasted sesame
1. To prepare the trays, trace a 26cm cake tin onto baking paper. You will be making six sponge rounds in total for the layer cake, but if you only have one or two sheet trays, that's fine. You can bake in batches. Alternatively, you can bake 200g of batter in a 26cm cake tin will do the trick in batches.
2. Roast the sesame seeds in the oven at 140 degrees for around 2 hours until deeply golden and fragrant. Allow to cool, then grind in a food processor to a fine sandy texture. Stir through the almond meal, flour, baking powder and 140g of the sugar.
3. Whisk the yolks with the remaining sugar until foamy, then trickle in the oil gradually, followed by the milk. Fold the dry ingredients into the yolk mixture and set aside.
4. In a clean bowl, whip the whites with the sea salt and cream of tartar until soft peaks, then gradually add 2 tbsp sugar until stiff peaks.
5. In three additions, fold the whites into the yolk batter, careful not to knock out too much air.
6. Gently Spread 200g of the cake batter onto the prepared sheet trays and bake for 12-15 minutes at 170 degrees until golden. Repeat with the remaining batter. There should be enough for six rounds at roughly 200g. Allow to cool.
7. To prepare the filling, burn the honey in a pot until dark caramel colour, then stir in 100g of the cream with a tsp salt. Allow to cool thoroughly, then whip with the remaining chilled cream and sour cream to reach stiff glossy peaks.
8. To assemble the cake, spread a big chef's spoon of burnt honey cream between each layer of sesame sponge. Repeat with all layers and spread some cream over the edges to seal the crumbs in neatly. Chill in the freezer to set for an hour, then prepare the ganache glaze.
9. Boil the cream and salt and pour over the chocolate and stir in some ground roasted sesame. Then while it's runny, pour it over the chilled cake and smooth it off with a palette knife. Garnish with more sesame if you like. Bee pollen would also work. Allow to set before portioning.