Swiss Roll with Salted Chocolate Cream and Candied walnuts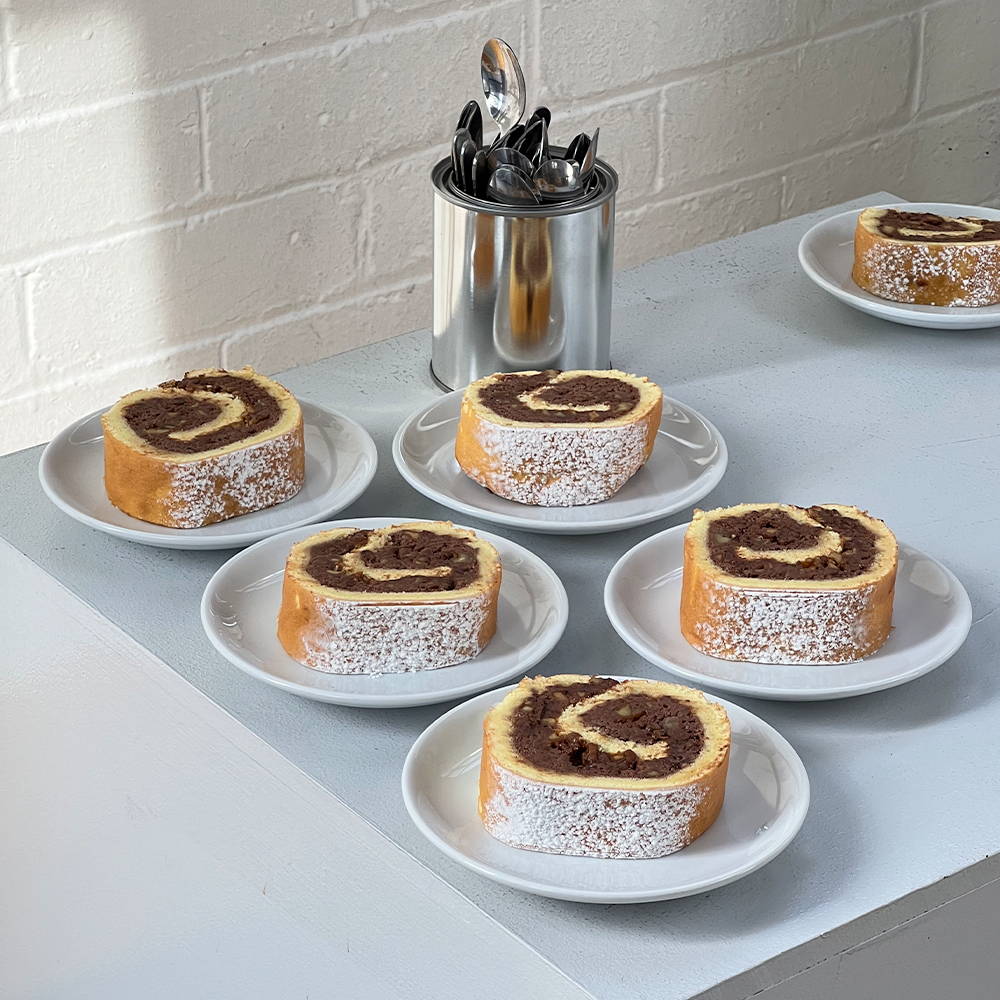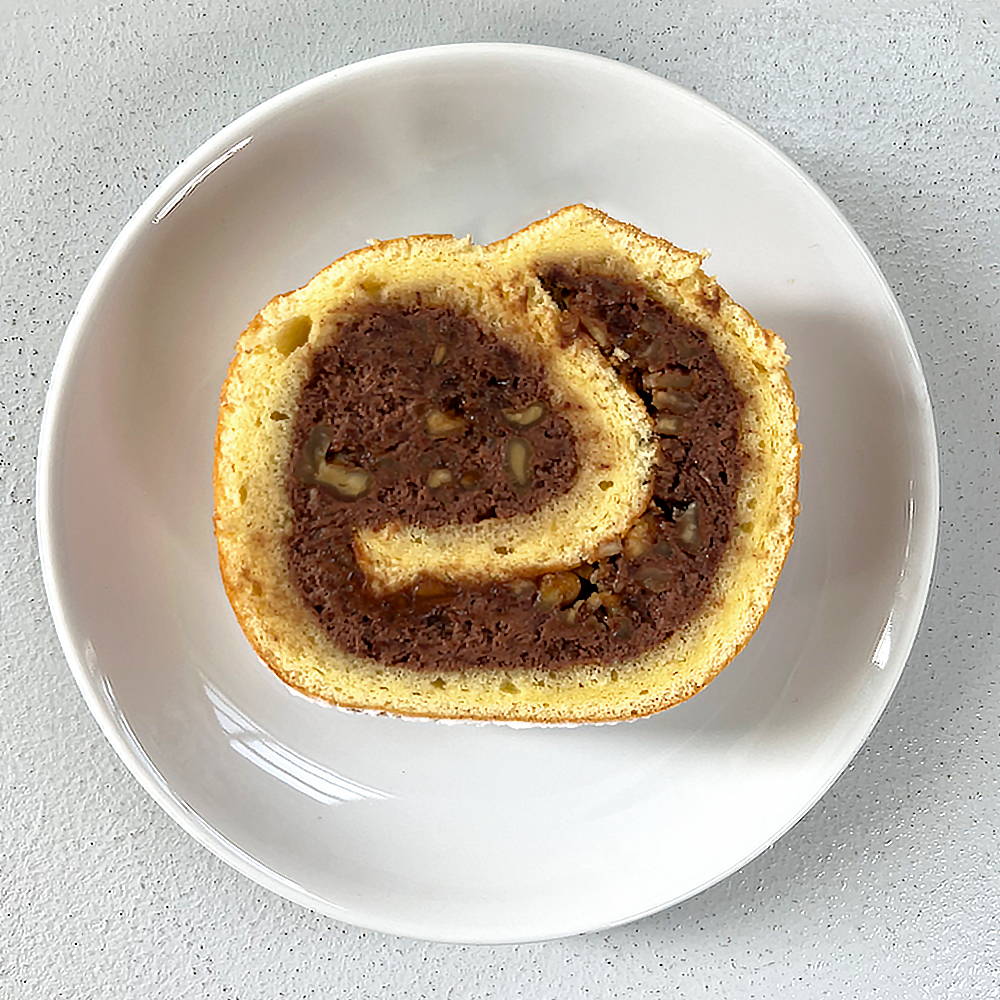 Peaches La Creme (@_peacheslacreme__) shared her recipe for a Swiss roll with us.
"I feel a lot of nostalgia towards a Swiss roll, especially a supermarket version filled with artificial jam and that perfect, mesmerising swirl. I created this recipe for something that can be made in a few hours, which is perfect for the holiday period with guests always dropping by or family around and hungry.
The roll is filled with a luscious boozy and salted rich chocolate cream-whilst studded with candied caramel walnuts, all rolled between a light sponge. The Dominican Republic chocolate works perfect within the recipe, as the nutty and sweet notes compliment the other ingredients "
Candied walnuts
120g of walnuts
14g of butter
50g of castor sugar
Salted Chocolate and Rum Cream

250ml of thickened cream
90g of Hunted and Gathered Dominican Republic chocolate buttons
50g of castor sugar
10g of good quality rum (this can be omitted)
Good pinch of salt flakes
Sponge

3 egg yolks
3 egg whites
Cream of tartar
60g of castor sugar (30g for egg whites, 30g for egg yolk)
30g of neutral light oil
30ml of whole milk
Vanilla
60g of sifted all purpose flour
1/2 cup honey
Candied walnuts
1. Place all ingredients in a pan, on low heat and allow butter and sugar to start melting. Once they start melting, slowly yet frequently stir the contents of the pan, so the walnuts are covered in the caramel like liquid. I allow the walnuts to reach a candied/caramel like consistency-be careful to not let them burn. Once the walnuts are evenly covered, pour them onto a lined pan or plate so they can cool down. Once cooled, chop them into small pieces.
Salted Chocolate and Rum Cream
1. Pre heat the oven to 180 degrees Celsius for the sponge. Whilst the oven is preheating, start making the chocolate cream. Grab a heavy bottomed pot, and a suitable heatproof bowl for a double boiler.
Fill the pot a 1/4 of the way up. Let the water come to a gentle simmer, then add your chocolate to the bowl and place over the simmering pot. Stir gently so the chocolate does not burn as it melts. If it seems as though the water is getting too hot, turn the heat down.
2. Once the chocolate has melted, turn off heat and remove the bowl onto a heatproof surface. I stir this gently, as we need it slightly cooled down for the cream. Whilst the chocolate is cooling, place the cream, sugar and rum in a mixing bowl and with the whisk attachment, beat on medium to high speed until you get medium-slightly stiff peaks.
3. Once the cream is whipped, and the chocolate has cooled down but is still silky-add the melted chocolate to the cream all at once (make sure it is not still warm, as it will melt the cream) and gently fold the chocolate through the cream until its all combined. Work softly but quickly, you do not want to knock out too much air from the cream. Add salt flakes to taste. Place in the fridge.
1. Line a 20x30cm tray with baking paper, on all sides.
2. Add the egg yolks, 30g sugar, vanilla and salt to a bowl. Whisk until smooth. Add the oil and milk and combine. Now, sift over the AP flour and whisk in.
3. In a mixing bowl, with the whisk attachment, add the egg whites and cream of tartar and whisk until foamy. Once foamy, add the remaining 30g sugar slowly, at medium speed. Whisk until the egg whites become soft peaks and glossier.
4. Add 1/3 of the egg whites to the egg yolk mixture, and fold gently. Add each remaining 1/3 at a time.
Make sure to fold and not stir or whisk, as you will knock too much air out the sponge. Once combined, pour sponge batter into a tray and spread evenly with a spatula or pallet knife. Tap the tray down gently on the bench, to remove any bubbles.
5. Place in the oven at 180 for 14-15 minutes. The sponge will be golden, dry and bounce back when you touch it. That's when you know it's ready.
6. Once cooked, remove from oven and carefully knock some air out of the tray, if the sponge has risen unevenly. Place sponge, onto a cooling rack and let cool for 15-20 minutes. Whilst this is cooling, make a honey syrup-1/2 cup honey, 1/2 water. Place this in a small pot on low heat and stir until honey has dissolved into water. Remove from heat and let cool.
5. When sponge has cooled, remove cream from fridge and remove baking paper from the sponge. Lay the rough side up with more baking paper underneath (I like to use cling wrap underneath the baking paper too, it helps when rolling and storing).
Soak the sponge generously in the honey syrup.
6. Spread the cream from the centre to each corner, in a cross like shape and then spread evenly over the rectangle (this is best done with an offset pallet knife, however a spatula will be fine too) . Sprinkle the candied walnuts over the cream.
7. Starting with the short end, start rolling the sponge with help of the paper underneath. Use it as a guide to make the sponge taut. Make sure the seam side is facing down and wrap tightly in the paper and glad wrap, with twisted ends. Place in fridge for a minimum of an hour to set properly.
8. When ready to eat, remove from fridge 10 minutes before serving and cover in powdered sugar. Use a hot serrated knife to cut desired sized rolls. Enjoy.