Chocolate-Peanut Buttercrunch Toffee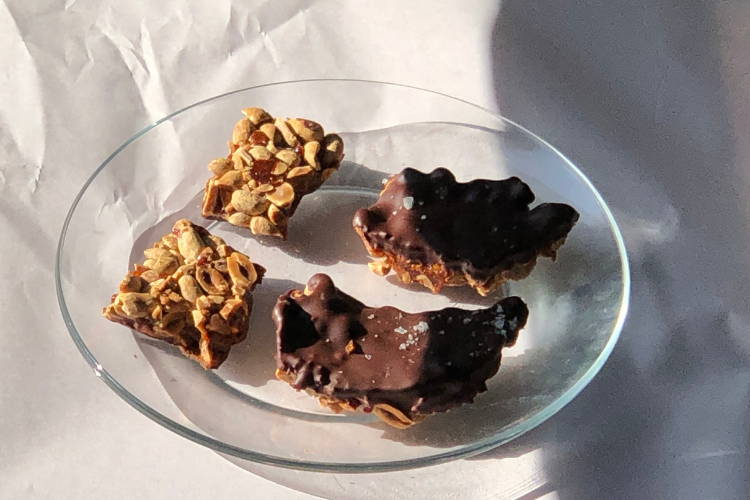 "Annie Smithers is one of Australia's most highly regarded chefs and one of the first chefs to truly epitomise the paddock to plate ethos. With a career spanning well over 30 years, Annie has spent the last quarter of a century in the wonderful Macedon Ranges and Hepburn Spa region of Victoria. Her restaurant du Fermier in the small village of Trentham, is a tiny establishment. Annie does all the cooking, starting with baking her own baguettes each morning and offers a menu du jour that features vegetables picked that day from her kitchen garden and meats and poultry from the surrounding area. She carefully sources all products to ensure their environmental and animal husbandry credentials."
225 g toasted Peanuts, chopped between 'fine' and 'coarse'

2 tablespoons water
115 gm unsalted butter cut into pieces
a big pinch of salt
200g caster sugar
45g packed light brown sugar
1/4 teaspoon baking soda
1 teaspoon vanilla extract
140g Dominican Republic chocolate
flaky sea salt
1. Form half the nuts into a rectangle about 20 x 25 cm on an un-greased baking sheet.
2. In a medium, heavy-duty saucepan fitted with a candy thermometer, heat the water, butter, salt, and white and brown sugars. Cook, stirring gently if necessary, until the thermometer reads 150ºC degrees. Have the vanilla and baking soda ready.
3.Immediately remove from heat and stir in the baking soda and vanilla.
4.Quickly pour the mixture over the nuts on the baking sheet. Using a small offset spatula, or similar utensil, spread the warm mixture over the nuts. Sprinkle with a little flaky sea salt over the butter-crunch mixture.
5.Strew the chocolate chips over the top and let stand 2 minutes, then spread the chocolate in an even layer.
6.Sprinkle the remaining nuts over the chocolate and gently press them in with your hands.
Cool completely and break into pieces to serve. Store in an airtight container, for up to ten days.